edit
Blog comment spam taken to the next level?
Posted by Jonas Elfström Wed, 19 May 2010 21:01:00 GMT
Only days after starting this barely visited blog the comment spammers showed up. I activated Akismet and it solved my problem for a while. Over time the spamming got worse and although almost no spam actually showed up on the blog, my fear of false positives still forced me to remove the spam manually. Not my idea of fun.
I then activated a very simple hurdle. I demanded JavaScript to be able to post comments. Well, not really, what Typo really did was to expect the HTTP header X-Requested-With: XMLHttpRequest. That worked flawlessly for about three years. Just six weeks ago I noticed the first spambots including the needed header to pass through. Almost all posted stupid drug ads that Akismet easily identified as spam. The situation was still under control.
Yesterday something completely new happened. I got a comment on an old post about my admiration of Ira Glass and This American Life. The comment seemed believable enough and it passed the spam filter. Still, the link at the end undeniably identified it as spam. Then there was another, and another, and up until now a total of six spam comments in the new and more advanced format. I'm still not sure if these are scripted but it seems an awful lot of work if they are actually manually typed.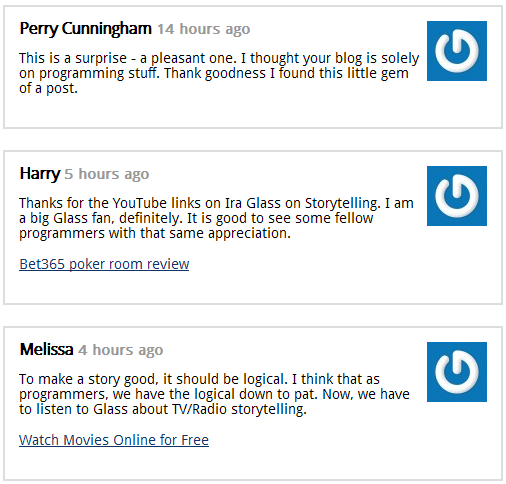 And also these on a post about infinite ranges in C#: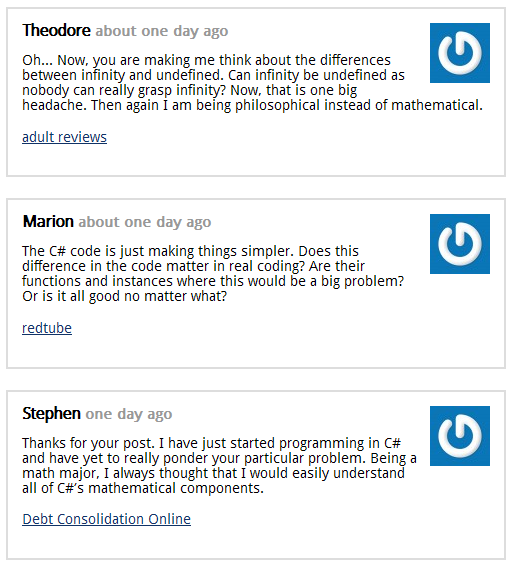 I'm kind of bothered with the ones both referring to content of the post and at the same time mentioning that it's not about programming like most of my posts are.
Are these human or machine made? A clever combination? Also, if you happen to be a spambot and actually answer this then I guess I will have to congratulate you for passing the Turing test.
PS. They spammed from 110.0.0.0 - 110.255.255.255 so if you happen to have problems with the same spammers and aren't worried about blocking the Philippines then you know what to do. DS.